03 May 2020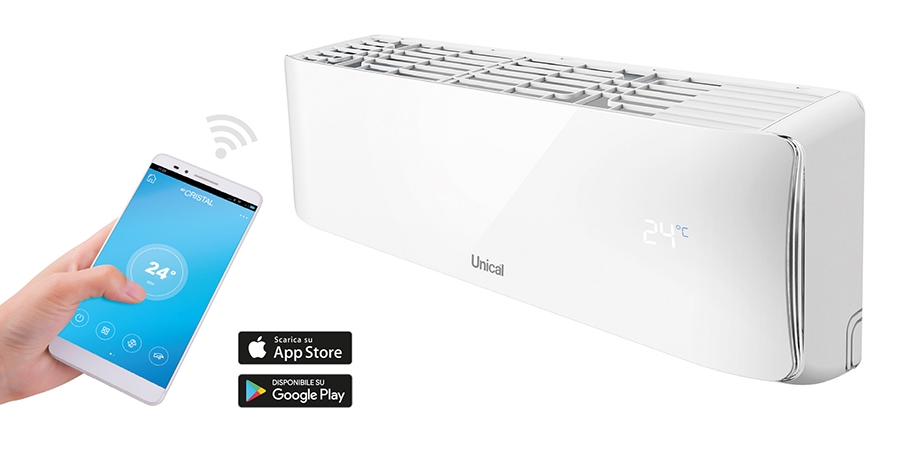 Innovation and creativity, combined with great attention to the environment, are the hallmarks of Unical, a company that over the years has established itself internationally both in the heating sector, proposing innovative projects, latest generation solutions with an eye to aesthetics, and also in the air conditioning sector.
Valid solution during winter and mid-season with heat pump use, excellent to face the heat of the summer season, Unical's airCRISTAL line, with high efficiency, is the ideal solution to make your home comfortable and well cooled. There are 4 models available to choose from, according to the size of the rooms, all equipped with inverter heat pump.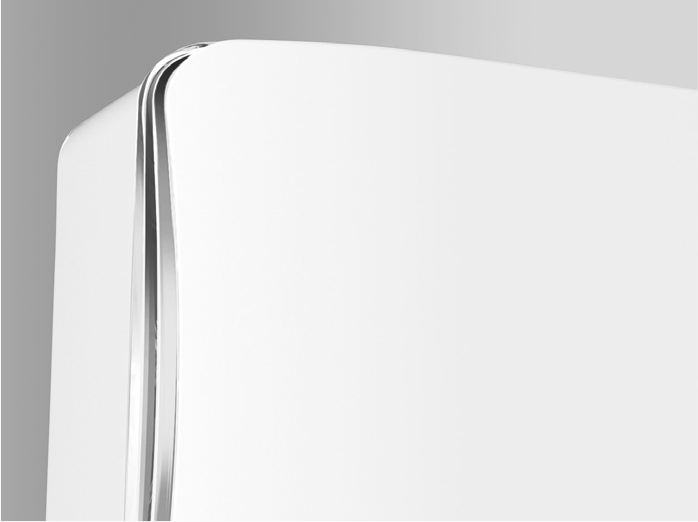 With airCRISTAL the air conditioner becomes an integral part of the furniture: the exclusive shape of the indoor unit with rounded and soft lines of the front body is enriched with an elegant transparent PMMA (polymethylmethacrylate) profile and a soft concealed display. The splits have been studied in detail: the automatic oscillation of the horizontal and vertical deflectors creates an effective 3D effect, as this mechanism ensures better air distribution.
The "Full Inverter" technology, supported by the controlled modulation system of the compressor and fans, allows the desired temperature to remain stable, ensuring better seasonal performance and a reduction in electricity costs, as well as defrosting cycles due to higher consumption.
The exclusive "Follow me" function also ensures that the desired temperature is quickly reached throughout the room, guaranteeing maximum comfort (both in heating and cooling), thanks to the sensors integrated in the remote control.
All airCRISTAL air conditioners models are equipped with WI-FI for remote control and management through mobile devices such as smartphones or tablets, thanks to a simple optional stick connected to the USB port of the control board. To monitor, even remotely, the different functions, you can download a simple and intuitive APP that allows you to set the modes such as programming on and off, the daily or weekly timer, check the operating consumption and the status of the air conditioner.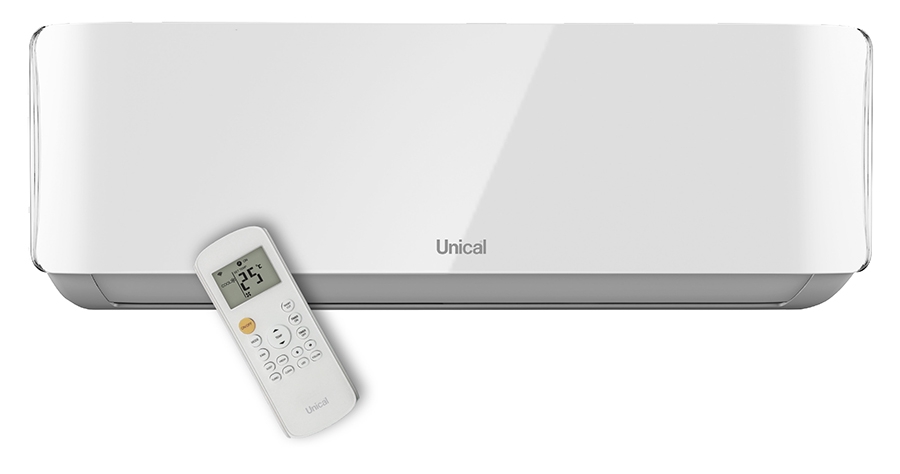 All models in the airCRISTAL line are guaranteed for 5 years and operate with R32 ecological gas, a refrigerant fluid that ensures high performance with a reduced environmental impact, in line with recent European standards.
The airCRISTAL range is also available in the MULTI-SPLIT version that can connect a single outdoor unit up to 5 indoor units of different power and type (wall, cassette, ductable, floor/wall).
To hide the outdoor unit of the air conditioner, Unical proposes the MIMO cover, by ArtÙ Design Studio, a decorative element responding to the need to make the outdoor units of the air conditioners less impacting.

It is available in the following variants: MIMO Butterfly (bamboo bush), MIMO Heart (decorative railing), MIMO Bird (climbing leaves), MIMO Coral (coral). AWARDS: GOOD DESIGN AWARD 2018
‹ return to previous page