airCRISTAL
25 June 2019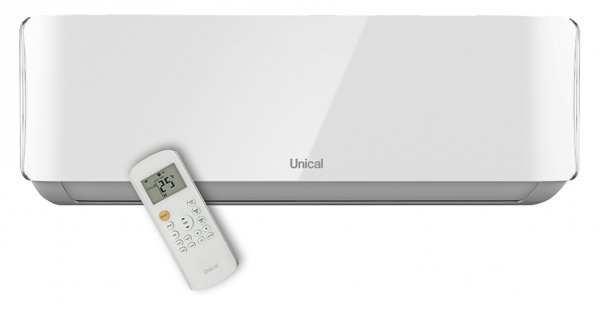 Design and technology: a winning combination for the Unical airCRISTAL range of air conditioners, that use the new R32 ecological gas.
The range is made of four, heat pump inverter type models:
KMUN 10H - KMUN 13H - KMUN 18H - KMUN 24H
Technological charm
Design and technology: a winning combination in the Unical airCRISTAL range of air conditioners.
The exclusive design of the indoor unit, conferred by the harmonious and rounded lines of the front body, is enhanced by an elegant transparent profile in PMMA and an essential and discreet retractable "soft display".
In this way airCRISTAL can be installed in harmony with any environment and furnishing, from classic to the most modern.
The automatic oscillation of the horizontal and vertical deflectors creates the "3D effect" which guarantees better air distribution and optimal comfort in the environment.
At the same time, the "Full Inverter" technology optimizes the electricity consumption thanks to the controlled modulation of the compressor and of the fans, obtaining:
- Better seasonal efficiency and reduced electricity costs
- Constant desired temperature in the environment
-Reduction of defrost cycles which are the cause of greater consumption
Distance comfort
It's possible to interact with airCRISTAL even from remote, through your smartphone / tablet via the home Wi-Fi and a simple optional USB connected to the air conditioner control board.
With the simple and intuitive App, it is possible to set the airCRISTAL operating modes, to program its switching on and off, to set the daily/weekly timer, to check the operating consumption and the good condition of the air conditioner.
Best comfort in any environment
The MULTI systems of Unical air allow to reduce the dimensions of the outdoor installation without renouncing to the optimal comfort of the rooms to be conditioned. In fact, a wide range of outdoor units can manage from 2 up to 5 indoor units of different types and power.
If the sum of the powers of the indoor units exceeds that of the outdoor unit, the system will automatically share the total power among the various indoor units.
Therefore, there are many possible combinations with the MULTI range.
The external units are available in five models with different powers:
KMX2 18HE - KMX3 21HE - KMX4 28HE - KMX4 36HE - KMX5 42HE
This allows a great plant flexibility to satisfy every residential and commercial need. It is possible to install the internal unit of the power that better suits, for dimensions and conformation, every room to be conditioned.
return to previous page