Osa wins the "Compasso d'Oro" award
20 June 2018
Osa, Unical's boiler wins at the 25th edition of the Compasso d'Oro awards
20 June 2018 - The Osa domestic boiler won the ADI Compasso d'Oro, the oldest and certainly the most prestigious international design award handed out by the Association for Industrial Design (Associazione Disegno Industriale - ADI).
JUSTIFICATION: "Most people, when they think of a boiler, also think of how to hide it from view: where to secrete all the pipes, valves, knobs and exhausts. Osa is different: although it is as big as other boilers, it is thinner and looks like abstract art, self-contained, elegant and sombre".
Designed by ArtÚ Design Studio, Unical's Osa boiler is one of the 16 products chosen by the international jury of the 25th edition of the ADI Compasso d'Oro. It was one of the many products nominated for preselection in the 2016-2017 ADI Design Indexes and one of the 283 products that were scrutinised by the international jury, in accordance with its strict assessment criteria. The Artù Design Studio team, made up of Sergio Fiorani, Ilaria Jahier, Igor Zilioli e Gian-Luca Angiolini, professionals specialising in industrial design and engineering, is set up at Unical with the aim of adding new value to everyday objects, often neglected from an aesthetic point of view - like the boiler - and enhancing their shape in perfect keeping with their function.
Osa stands out by being the first boiler to lend itself to been shown off as a element of design, a first for the sector. Osa is a product developed using state-of-the-art technology, the fruit of advanced research (condensing gas boiler, efficiency class A+ for the heating system, the highest level of the category). It can be managed, programmed and controlled via an app. Osa is also the first boiler that merits the description "design boiler". It was selected for the "Design of material and technological systems" category of the ADI Design Permanent Observatory for publication in the 2016 ADI INDEX and won the Red Dot Design Award in 2017.

Its clean, simple lines, small size - it's only 18cm thick - and hidden connections make for an innovative design. The possibility to customise the front panel means that it enhances any interior it is placed in. The front of the Osa boiler is in fact available in various colours and may also be used as a black- or white board, or even as a mirror, thanks to its unique finish in supermirror stainless steel. It even comes in a small vertical garden version.

Unical, a company at the cutting edge of technology, celebrates the prestigious award as a recognition of its tireless efforts and continues its innovative path in the domestic, professional and industrial sectors. The company interprets modern living with an eye to the future: it proposes the most technologically advanced, high-performance solutions, always mindful of the need to protect the environment.

The ceremony of the 25th edition of the ADI Compasso d'Oro took place on 20 June 2018 at Milan's Castello Sforzesco. As is traditional for the award - a tradition that goes back to 1954 - both the designers and producers of the objects chosen were recognised.

The winning products, like the Osa boiler, and those awarded an Honourable Mention will become part of the ADI Compasso d'Oro Historical Collection, which will soon open its doors to the public in Milan. Following the award presentation and thanks to the support of the Municipality of Milan and with the cooperation of the Superintendence of the Castello Sforzesco, an exhibition dedicated to the participating products and the Youth Section (Targa Giovani) projects was inaugurated at the Cortile della Rocchetta, which will stay open until 26 June.

The 25th edition of the ADI Compasso d'Oro is part of the programme of the European Cultural Heritage Year and is sponsored by the Ministry of Foreign Affairs and International Cooperation, the Region of Lombardy, the Municipality of Milan, FederlegnoArredo, and Confindustria Lombardy.

25th ADI Compasso d'Oro

Awards ceremony
20 June 2018, 17:30

Exhibition
21 - 26 June 2018

Castello Sforzesco, Cortile della Rocchetta, Milan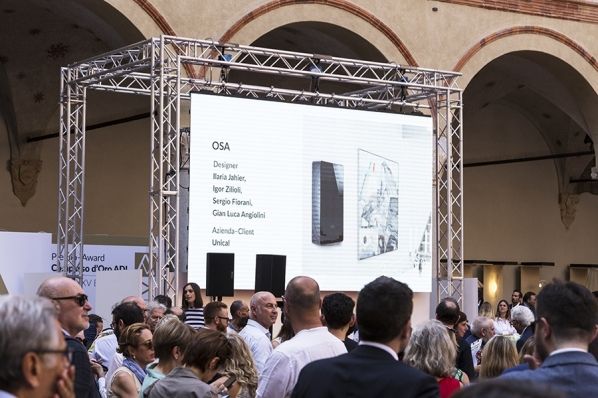 return to previous page