TECHNICAL SEMINAR ASHRAE QATAR Oryx Chapter
19 November 2015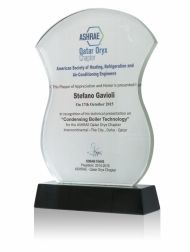 Unical participates in the TECHNICAL SEMINAR in Qatar presenting the flagship in our product range: MODULEX.
This important event is organized by ASHRAE (American Society of Heating, Refrigerating and Air-Conditioning Engineers) the AMERICAN ASSOCIATION OF HEATING ENGINEERS, as well as organizers of major trade fairs in the USA.
Promoter of the event is the European company WATTS, who found in AERCO-Unical the ideal company to present the top technology in the field of heating to 200 local designers.
This event will carry over into a Italian-American partnership to install MODULEX boilers, the top level product in the market, in the UNITED ARAB EMIRATES.
return to previous page