ITMA 2015
12 November 2015
We are displaying at ITMA, the universal exhibit of the textile machineries, from November 12 to November 19 at FIERA MILANO RHO.
ITMA comes back to Italy, since 20 years from the last edition which was set here and for the Italian mechanical and textile industries, ITMA 2015 will be the right occasion to show the most updated technologies to visitors from all over the world.
On this occasion, Unical will promote its range INDUSTRIAL GENERATORS with powers until 15 MegaWatt and steam production until 21.600 kg/h, which include:
- Steam Generators with overheated water, hot water with high and very high power for productive cycles and/or big powers, textile industries, food industries, hospitals etc.
- Steam Generators with inverted flame, integrated and at high pressure
- Steam Generators with 3 pass smoke way
- All the standard equipment for the big plants
All the products are realized, on the basis of the most updated technology, with PATENTED SMOKE PIPES as warranty for the real performances until 95%, special IML control board with a touch screen which allows you to manage it up to 72 hours without any supervision.
We will be waiting for you.
We are at PAVILION 7 - Stand G103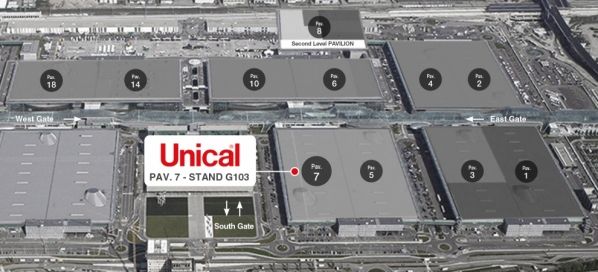 return to previous page