Vision
TECHNOLOGY, QUALITY, RESEARCH, SAFETY, SERVICE, STYLE, ECO-AWARENESS, ENVIRONMENTAL FRIENDLINESS, INNOVATION, CURIOSITY, ATTENTION, CARE, ACCURACY, ETHICS, FUTURE
These are the key words that represent who we are and what we do.
The usual words picked to make an impression on the public? No, back when nobody in Italy was even talking about environmental friendliness and ecological technology, Unical was already implementing all these words and its founder, the painter and artist as well as brilliant engineer and inventor demonstrated this openly (and courageously...) during the most important Italian international climate event, the Mostra Convegno Expocomfort show in Milan.
Indeed, it was here that Unical used art to raise awareness among the public... a totally unconventional tool at the time, still unique and inimitable.
Here is an excerpt of his thoughts on the matter. They look like poems, but they ask those big questions, each one to whom it may concern, questions which had they been asked at the right time, would definitely have led to an improved quality of life for us all.
IF WE LOOKED AT THE WORLD THROUGH THE EYES OF UNICAL THIS IS WHAT WE WOULD SEE AND SO WE WOULD DO THE SAME AS UNICAL AND ALL COMMIT TO WORKING ON A BETTER FUTURE FOR OUR CHILDREN.
Dear citizen,
you could already install boilers with low levels of harmful emissions (CO2 and NOX).
Why doesn't anyone talk about them?
In our neighbouring European countries, these boilers are already compulsory.
Now you know it too. Ask for them from installers and heat technicians who have the wings and a heart to fly.
Dear parents,
of children wearing gas masks to go to school,
have you ever asked what CO2 and NOX emissions your new boiler produces?
Many will tell you that all boilers are the same.
This is not so.
Boilers have standard components or special components for low harmful emissions.
That's all.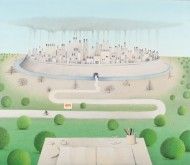 Dear mayors,
If you were correctly informed that there are low CO2 and NOX emission boilers on the market with a very high efficiency,
would you be courageous enough to impose the use of such boilers to your citizens?
Apart from votes, wouldn't you feel proud of such a decision?
Youth of today, man of the future,
the drying up of the soil due to excess levels of CO2 will lower the quality of your life as early as the next thirty years.
It's not true that you can't do anything about it.
You can fight to have a high efficiency (110%) condensing boiler installed in your home.
This would reduce CO2 emissions by at least 25%.
Don't live your future in a desert of trees painted on posters.
Dear system designer,
you know the difference in price between using normal combustion gas-fired boilers and those with low NOX emissions.
It is very little compared to the total cost of the system.
Is it advisable to install polluting gas-fired boilers which will probably have to be replaced?
And if they cost the same, what would you do?